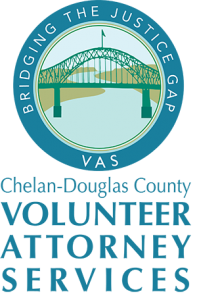 Chelan Douglas County Volunteer Attorney Services is proud to offer a full day of learning for members of the bar and interested community members.  The CLE Blitz provides attorneys with a local opportunity to obtain necessary CLE credits, receive the latest legal updates and connect with colleagues.  The CLE Blitz also serves as annual fundraiser for Volunteer Attorney Services (VAS).
VAS facilitates free legal services for individuals and families from poverty by enlisting help of lawyers who are willing to volunteer their time on a pro bono. We are so fortunate for the incredible generosity of our legal community, donating over 600 hours each year to ensure that poverty is not a barrier to justice.
Thank you for joining us and for your support for civil legal aid!
---
Schedule for the Day
8:30-8:50- Registration sign-in, coffee
8:50-9:00- Welcome
9:00-12:00- The Impact of Incivility and Implicit Bias on Your Legal Practice (3 Ethics credits)
               Presenter: Timothy Jaasko-Fisher, Robert's Fund and TJF Consulting
12:00-12:15-Break/Lunch pick up
12:15-1:15- Finding the Gaps: Practical Steps to Building an Effective Brand (1 CLE credit)
                    Presenter: Kirk Esmond, PCM Brandwithstructure.com
  1:15-1:30- Break
1:30-4:30- Rounding Out Your Practice: Legal updates you should know (3 Law & Legal credits)
                 –Legal Implications of Social Media Use In and Out of the Workplace
                  –Capacity or Lack Thereof: Diminished Capacity/Guardianship Updates
                                David Kazemba, Overcast Law Offices
                   –Marijuana in the Evergreen State: Overview of the New Regulations
                   -DUI Update/Draeger 9510
                               Andrew Van Winkle, Chelan Deputy Prosecutor
2017 CLE Blitz Program Abstracts and Bios Here